This is the new RC Car. I've had it since January 2001, when I planned to upgrade the old car by moving the transmitter and cam to the new one. However, the video transmitter fried in the process. I don't know if this is due to something I fubared at the time or if two years of constant abuse finally had taken its toll.

The new car has one redeeming feature. Its able to hold a much larger battery. The battery I have chosen for it is a 12V 4.5 Amp Hour Gel Cell that can run the camera and transmitter for 21 hours before needing a recharge. And recharging only takes an hour. My plan was to purchase an additional battery and run them in 12 hour shifts. I know I can be here in 12 hour intervals to change them out without much trouble. Having approximately 9 hours of extra time each day will allow me to add other features like infrared headlights, so the car's cam can see at night. This car also won't drag on the carpet as much, so I won't need to concern myself with having multiple speed selections.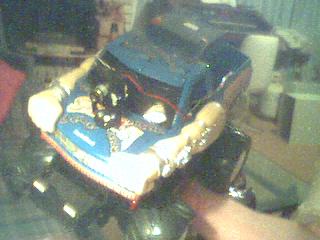 View previous object here..