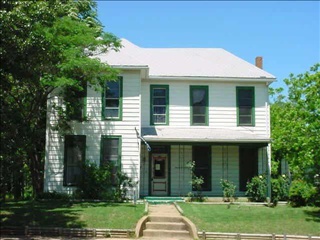 Some quick facts about the new house.
It's located in Denison, TX.
I spent $21345.69 total to purchase it.
It was built in 1916.
I expect to spend approximately $15000 to restore the house to a condition on par with a more modern home in good condition.
The house is currently 1850 sqft.
It has 4 bedrooms, 2 bathrooms, a living room, dining room, and kitchen.
A utility room and replacement for the downstairs bathroom will be added, bringing the total square footage up to approximately 2200 sqft.
All drywall/plaster on the exterior and load bearing walls will be removed. While the walls are bare, all the electrical wiring will be replaced, network, cable, and other wiring will be installed, and the exterior walls will be filled with insulation. New drywall will then be installed.
There is some termite damage to the wall in the downstairs hallway. Three studs and part of a sillplate need to be replaced.
All plumbing in the house will be replaced.
The attic will have 2x10's or 2x8's sistered to the current supporting 2x4's, filled with insulation, and supporting plywood floors. It will then be used for storage space.
The two chimneys are no longer in use and will be removed.
The kitchen is getting a major overhaul. The floor is in decent shape but needs a bit of levelling. The three exterior walls are very thin and will be removed and replaced. None of the cabinets currently in the kitchen are salvagable and will be rebuilt in their entirety, along with new appliances.
The two living areas downstairs will be combined into one.
The two western bedrooms upstairs will have builtins which will include armiores, cabinets, and dresser drawers, taking up an entire wall. One room will have a window seat, the other will have a kingsized bedframe.